Our Champagne

House Champagne Gioria-Latizeau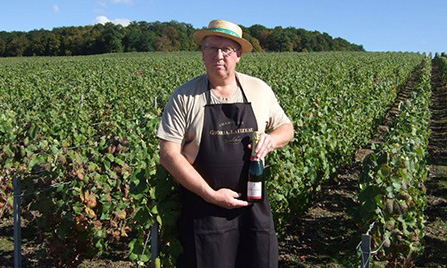 The Gioria-Latizeau Champagne House is a family history and has had a unique know-how passed on from father to son for four generations near Château-Thierry (02).
Our trade: wine-growing
Our vineyard plots are located near the winery in Saulchery, mostly in the villages of Saulchery, Charly sur Marne and Essômes sur Marne, in the heart of the Marne Valley.
We grow the three grape varieties of Champagne : Pinot noir, Pinot meunier and Chardonnay.
The reception in the winery
Welcoming visitors for a champagne tasting is part of our job as winemakers. The Gioria-Latizeau Champagne House is at your service throughout the whole year for a visit of the winery (preferably with an appointment).
Where to find our champagne
Restaurant "Château Lafaurie-Peyraguey"
Lieu dit Peyraguey, 33210 Bommes
Restaurant "Fellini"
47 Rue de l'Arbre Sec, 75001 Paris
The organic shop "Gastronomik"
113 Rue du Vélodrome, 33200 Bordeaux
Restaurant "La Paillotte Comtoise"
59B Rue du Général de Gaulle, 90850 Essert
Boucherie Des Coteaux (butcher shop)
141 Avenue du Maréchal Joffre, 95100 Argenteuil
Restaurant "Assanabel"
6 Rue d'Alésia, 75014 Paris
Delicatessen "Thiers Epices"
24 Avenue Thiers, 33100 Bordeaux
Restaurant "La Terrasse"
50 Route nationale, 02310 Saulchery